Butter Chicken Layer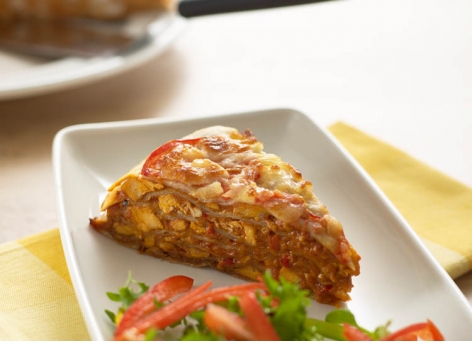 Serves: 10
Ingredients
800g chicken breast, finely chopped
125g Lakeland Dairies Butter
350g onion, grated
50g fresh ginger, grated
4 garlic cloves, ground into paste
1 tsp each of paprika & cumin
3 tsp garam masala
200g tomato purée
4 red chillies, finely chopped
400ml Millac Gold Double
Cracked black pepper and salt to season
7 tortilla wraps (10 inches)
2 tomatoes, sliced
50g mozzarella, grated
Chicken Marinade:
3 tbsp lime juice
3 garlic cloves, ground into paste
3 tsp garam masala
1 tsp salt
Method
Put the chicken and marinade ingredients into a bowl and stir. Cover and place in the fridge for 2 hours.
Preheat the oven to 200°C.
Remove from the fridge and spread the chicken out on a hot pre-heated roasting tray. Cook for 8-10 minutes in the oven or under the grill. Once cooked put aside.
Place the butter in a thick bottomed pan over a low heat, add the onions and cook until tender (4-5 minutes). Add the ginger and garlic and cook for 2-3 minutes.
Add the paprika, cumin and garam masala, followed by the tomato purée and chillies.
Reduce the heat and pour in the Millac Gold Double, simmer for 2-3 minutes.
Place the cooked chicken into the sauce and correct the seasoning with salt and pepper, then remove from the heat.
To build:
Preheat the oven to 180°C.
Take a large sheet of silver foil and lightly grease one side. Place one tortilla in the middle and spoon a thin layer of butter chicken on top, repeating the process 6 times to finish on a plain tortilla.
Bring the foil up around the tortillas and seal the top, then cook in the oven for 35-40 minutes. Place the tomatoes and mozzarella on top (leave open) and return to the oven for 15 minutes at 200°C. Remove the foil, cut into wedges and serve.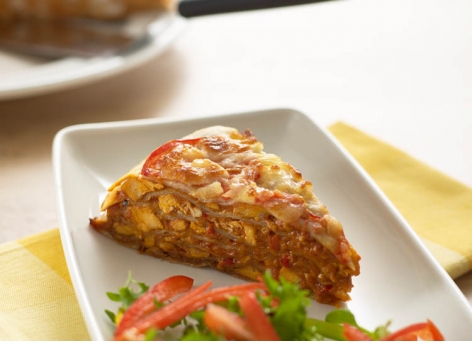 Products Used...